AFX Super International HO Race Set
When it comes to HO Scale Home Racing, I have certainly had my fair share of other track systems from time to time. Yet for many enthusiasts in this hobby, there is only one track system to own and that is AFX. Since I have been a "arm chair" HO scale enthusiast for quite some time now, I have had time to learn a great deal about this scale thanks to the internet and a few good friends. The day has finally arrived to get out of my chair and commit to building a more permanent layout and with it came the decision to use AFX.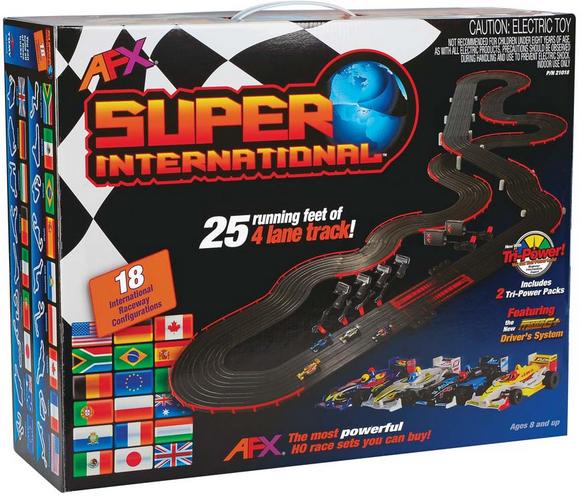 AFX certainly has a good selection of track systems to choose from, ranging from a basic figure eight to this set we chose. Dollar for dollar the Super International race set is very hard to beat if your looking to make a medium to large layout. It includes 4 of the fastest box stock HO slot cars available on the market today, which in addition to this blazing speed are also tunable. These MG+ cars run separately for around $29.99, so when you consider the amount of track you get in this set, these 4 cars that come with it just adds to the overall value.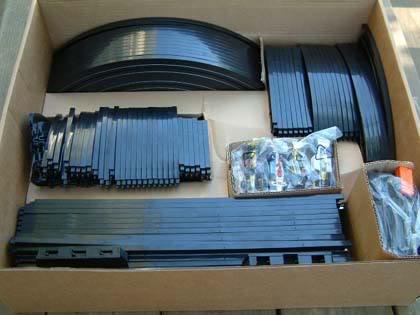 Arriving safe and sound, the box art itself relays how much fun you are about to have. There is just something about a brand new slot car set...I wish I knew what it was! Something that no matter how many sets or cars I own seem to stir images of my youth on Christmas Day and makes me act as if I was 10 years old again, eager to open the box and begin racing.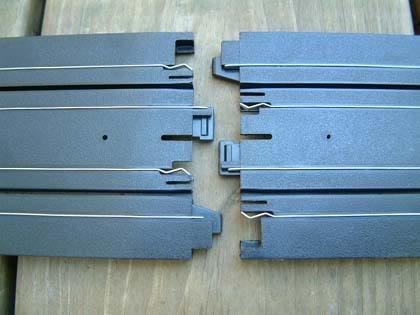 Track assembly is easy, with good electrical contact and smooth connections. The instructions included are very easy to follow, and I am sure any of you who chose this system will have it up and running in no time at all. The amount of track you get in this set certainly allows for alternate layouts, and adding to the fact the number of available pieces from AFX makes designing other layouts extremely easy.
Power hook-up and control is all plug and play, which just gets you racing that much faster. The set includes two AFX Tri-Power packs which let you set the maximum speed of the car to the right level for your driving skill: Beginner, Intermediate or Expert. And setting the level is as simple as flipping the switch on the side of the Pack. It also features more amperage than any other set-based power pack. On most tracks, that pretty much eliminates the power surge one car can get when the other car crashes. Many enthusiasts upgrade the controllers rather quickly, however to be fair they work as intended, and it will be awhile before these upgrades take place.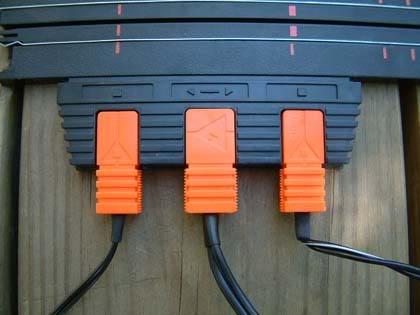 The track design shown on the box wasn't one that was a option for us. Our space was limited to a 4 foot by 8 foot sheet of plywood, so we had to come up with an alternate layout to fit in this space. The instructions included certainly give you many options, but all of these were too large for our space. We utilized TRACKER and came up with a simple 4 lane design that uses ONLY the track found in the set, with a few pieces left over. This is fine as one can never tell when a change might take place, so having the left over track really isn't wasted in my eyes.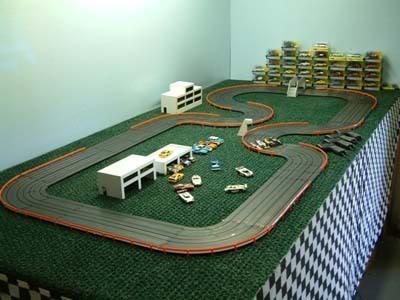 Finally we had our track set up and ready to race. I have to say to those just beginning that I hope you enjoy blazing speed. Being primarily a 1/32nd scale home racer, along with my recent T-Jet interest, the speed of these little cars were something I had forgotten about and had to get used to all over again. What I liked was that all 4 cars seemed to run equally and we enjoyed some very close racing. We even ordered some extra cars to go with the set to have some variety, and I have to say they looked very well done and were again equally balanced.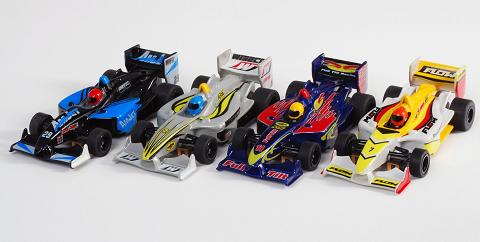 In closing this set is a great deal of fun, and of equal quality. It has all the ingredients for close, satisfying home racing in HO scale as many enthusiasts have already experienced. So of your looking to get started in the hobby and want to go HO scale, this set is the best start I can think of. I am very pleased to once again have an HO track and even more so because I chose AFX and I think you will be too.
by Harry Wise
Home Racing World
BRS Comments - Here is some information to enhance your HO slot car racing experience -
HO slot car list based on speed & handling performance from very good to average
AFX Mega-G+, AFX Mega-G, AFX SG+, AFX SRT (very good)
Life Like Fast Tracker
AFX Racing Turbo
Auto World X-Traction Ultra-G
Auto World X-Traction, Johnny Lightning X-Traction
Auto World Thunderjet Ultra-G
Auto World Thunderjet, Johnny Lightning Thunderjet (average)
Please note: As you move down the list you will find the cars run at more realistic speeds. It really depends on what you prefer; all out performance or slower paced fun. If you remove the traction magnet from the Auto World Ultra-G slot cars the performance changes to the regular version of that same car. You can also run AFX SRT/ Racing Turbo slot cars without the rear traction magnet at a reduced track voltage (12 to 14 volts). The cars are a lot of fun to run this way and drive much more like the larger 1/32 cars that are less "stuck down".
Three track power options for your TOMY AFX HO slot car track

#1 Independent Power Per Lane - If you like how the cars run on your track but want to eliminate any possibility of power surges between lanes, then we recommend one AFX 70636 15" Pro Power Terminal Straight Track and one additional AFX 8631 Power Pack for a 2 lane track. Add one more of each for a 4 lane track. This option applies to the older TOMY AFX race sets that came with the AFX 8631 Power Pack which has a fixed voltage output.

#2 Three Power Levels and More Power - If you would like to have the ability to run the cars at different speeds depending on the skill level of the racers and have more consistent power (still a small possibility of power surges between lanes but much better power than the stock AFX power pack), then we recommend one AFX 8822 Tri-Power Pack to use in the place of the stock AFX 8631 Power Pack for a 2 lane track. Add one more AFX 8822 Tri-Power Pack for a 4 lane track. All of the newer TOMY AFX race sets come with the AFX Tri-Power Pack which gives you this option out of the box.

#3 Independent Power Per Lane and Three Power Levels - If you would like to have the ability to run each car at a different speed depending on the skill level of the racers and eliminate any possibility of power surges between lanes, then we recommend one AFX 70636 15" Pro Power Terminal Straight Track and two AFX 8822 Tri-Power Packs for a 2 lane track. Add twice the amounts listed for a 4 lane track.

(Option #3 allows the most flexibility by allowing each racer to drive any suitable HO slot car at any one of the three available Tri-Power Pack voltages.)
Please note: Any of the above options can also used with an Aurora AFX track by using the AFX 70605 Adapter Tracks and then purchasing the additional AFX products (terminal track, power pack & controllers) for the power option you choose. These AFX products (pro power terminal straight track, power pack & controllers) are also compatible with the Auto World HO race sets.
Firmer track connections

AFX Track Clips are designed to secure the junction of two pieces of track in a way that is solid but easy to remove without doing damage to the track. Two clips are used on each track junction. This is recommended for more semi-permanent to "permanent" track layouts, because you will have to install and remove the track clips each time you change your layout.