The very latest in the NINCO 1 Series just arrived at my door. Although this series may not be appreciated by some in our hobby, when NINCO announced this Pony, I simply had to have one. Why? Because I like my Fords, especially Mustangs.
In my opinion, it is not just how a 1/32 slot car looks that makes it a great model. It also has to be fun to drive. In other words a good balance of the two usually end up pleasing my personal taste. This not to say this Mustang does not look good. To me it looks very well done. It will not win any fine scale detail awards, but then again this series is not trying to. A very simple approach that for some racers will be enough.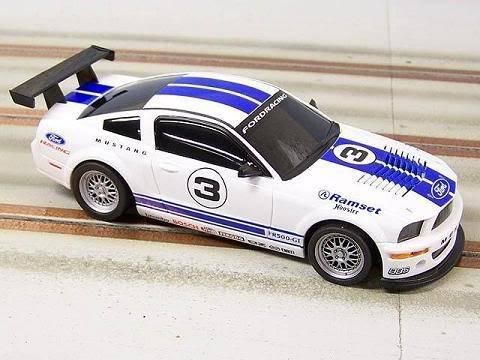 Our Mustang is decorated in the Ford Racing trim and it looks good enough for my eyes. There is plenty of decoration here and the paint work is very well done. The blue racing stripes are very opaque with no signs of fading. The clear-coat is also done well with no signs of dirt. So far, so good.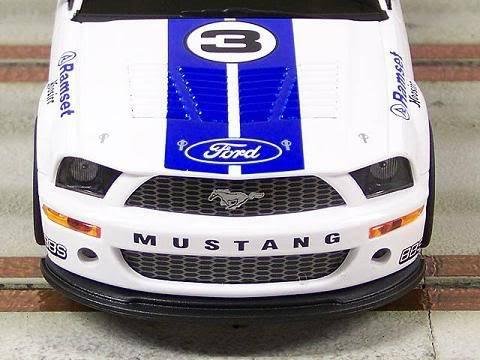 So Mustang fans, how does it look? Only you can decide if NINCO has done it well enough for you. Browsing the web about this car tells me they did it well enough. Is it perfect? Rarely anything in our hobby is. Again, you make the call. However, remember what these models are designed to be. I do not think my 11 year old is going to be a harsh critic.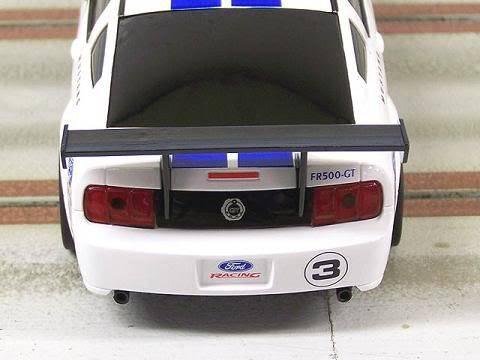 Wheels and tires are more than acceptable. They actually look very close to the prototype and seem very round and true. The tires on this model are the standard NINCO rubber compound that have a medium feel to them. I can say that they hook up much better than I expected. Of course your track surface will vary from ours so get with your favorite tire maker if you want to change them out.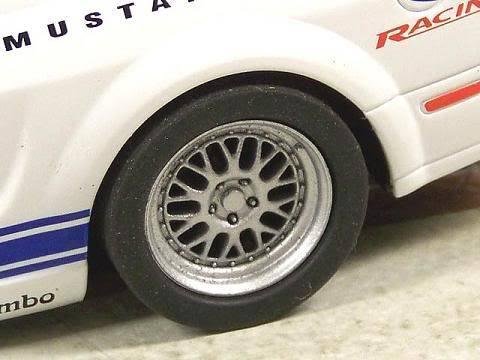 These wheels even have visible brake rotor detail. A nice bonus for those who like the added detail. You would think those would be omitted for a model such as this. The truth though is that comparing this model to a standard NINCO release 12 years ago may surprise you. Aside from the missing interior, the improvements NINCO has made makes this model look just as nice, if not a little better. The Tampo stampings on this model are a far cry from peel and stick decals.
So let us talk about this "missing" interior. Do you really miss it? Don't get me wrong, I very much appreciate the fine details in our slot cars. It is that detail level that makes 1/32nd scale slot car racing so appealing to many enthusiasts, including myself. Then again, not everyone in our hobby is that particular. I have seen models stripped down to almost nothing including the interior and glass with odd sized wheels with no scale inserts all in the pursuit of speed. And in some cases the interiors I have seen over the years were not much to talk about, and sometimes even took away from the overall appearance. Perhaps putting a 1/43rd sized driver in an open cockpit 1/32 classic? Maybe driver figures with heads twice as large as they should be? These ring a bell with any of you? It does not really bother me that much given what this model was designed to be. Do I wish NINCO would have done this car in the standard line? Oh yes, very much so. However, I will take it as it is for now.
Box Stock Road Test
We do not have a permanent plastic track set up anymore, so I basically make a small "skid-pad" test track when I need to. This model ran very well right out of the box as it should. The overall feel of this car is pleasing to me and it should do the same for many of you. No, it is no rocket ship and I for one am glad it isn't.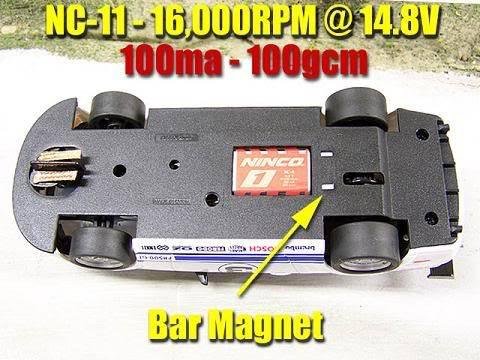 There is a small bar magnet that does it's job well for those who use it. You really have to overdrive this car to get it out of the slot. And given the lower speeds, the crashes that happen are not as brutal as they are with other models. The rear wing may not be perfect to scale, but it is strong. I purposely crashed this model over and over and it took the beating. Even the mirrors are stout enough to hold up to many tumbles. Bullet proof? Of course not, but I would say tougher than average.
So if you want a super fast magnet missile this is not the model for you. If you enjoy a milder car and one that will allow you to learn to drive a slot car much easier, I would advise looking very closely at this line. Especially if you have younger racers just getting started.
Under The Hood
3 screws mount the body to the chassis and are easily removed. Inside we see a very simple chassis with what I feel is the heart of this car: The motor. Equipped with a 9 tooth pinion turning a 27 tooth crown, this motor makes this car what it is. A great lower RPM motor that is mild like it should be for a beginner model. But I will say this, it also offers those veterans of the hobby who like a mild mannered motor something they will enjoy. Or at least they should. An odd motor in a way as it is virtually identical to the NC-8 featured here but has a slight torque advantage. It does have a little more power coming out of the corners and the braking is slightly better.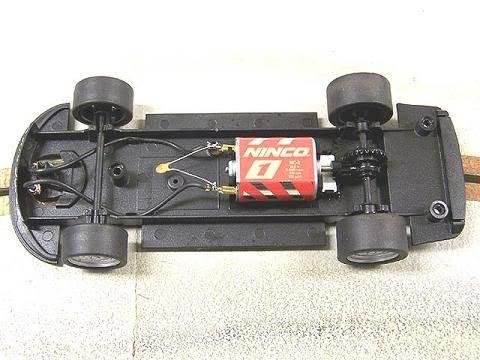 The gearing is standard with a 9 tooth pinion turning a 27 tooth crown gear. I like the new crown as it is marked with the number of teeth. And instead of a brass pinion this one is plastic. The gear mesh is a little on the loud side but break-in will most likely smooth things out. The quick disconnect system is employed on the motor and I like this system. Snapping the motor out is about as easy as it gets with no need for a soldering iron.
The front axle used to be a very sloppy item in NINCO 1/32 slot car models but not here. There is a slight amount of vertical free-play but not enough to even worry about. Same for horizontal free-play. There is very little and I see no need to do anything to it. This is good, I am pleased to see this.
Another thing that pleased me were how secure the rear bushings are in the chassis. I noticed no signs of them spinning under load. Good, one less item to worry about. I did notice a little more free-play in how the axle fits inside. Yet the model seems to run smoothly enough so I will stick with them for now.
Advanced Track Testing
4 x 16 - 3 Lane MDF Routed Wood - Flat Latex Surface
Copper Tape Conductivity - Aftermarket Power @ 12 Volts - PARMA 25 OHM Control
On our wood track the model ran fairly well but there was a slight hop to it under hard acceleration.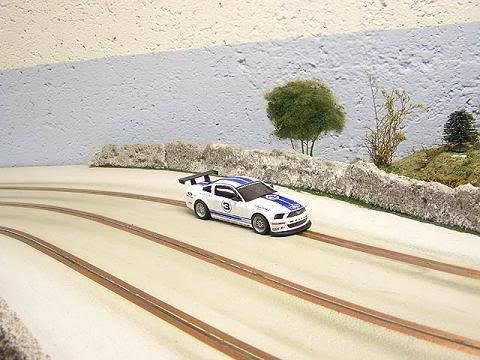 Still, it was not that bad and most wood track owners should see that it has great potential. The stock tires hook up well enough but I will change out to K&D brand tires as soon as they come in. Our initial lap times were promising with an average of 4.8 seconds. But I know we can do better than that.
Quick Tuning
As with most NINCO and other models the first thing I check when we see a hop are the wheels. Usually the culprit is excess flash molding on the inner rib of the wheel that causes the tire to sit unevenly and thus creates a "hop".
First, remove the tires and inspect for this this flash molding. Unless you own a very special model, you should find at least a few areas.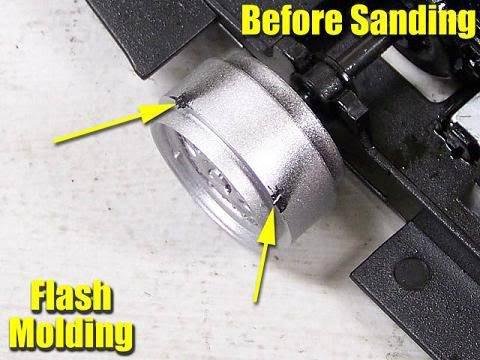 Easy enough to fix by simply sanding the molding away. I like using a medium to fine grit sandpaper.
Next it is time to inspect the tires. Turn them inside out and check for excess flash molding in the rubber. Sometimes you can see small little amounts that may not appear to be much, but can cause the tire to not sit cleanly on the wheel. Most times you can grab them with your fingers and pull them away.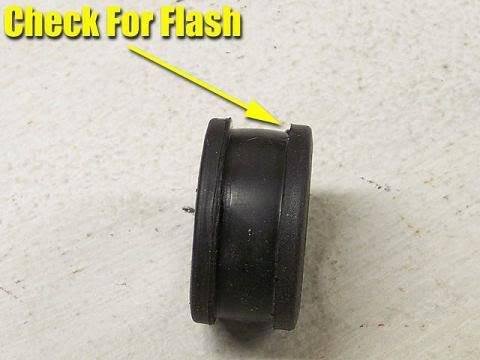 Now that they are clean, you can mount them back onto the wheels and get ready to sand them. Again, if you are brand new in our hobby you need no special tools. You have a track! You can tape down a piece of sandpaper as shown on your track. Then use a rubber band and wrap it around your controller to hold it down all the way. Place the car over the sandpaper and lower the tires to the paper. I like using 15 to 20 second bursts.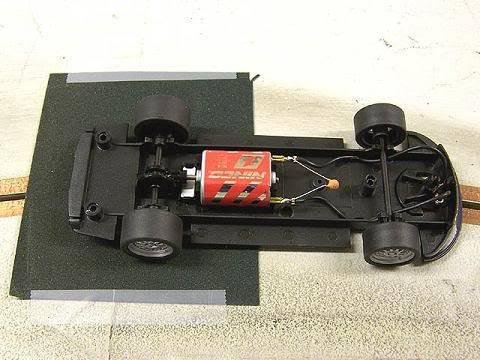 Now check the front wheels and tires. The tires you clean up the same as above. No, you cannot sand them but cleaning the flash from the inside will seat them true enough. The front wheels you can still use the Emery board to sand away the areas that have flash.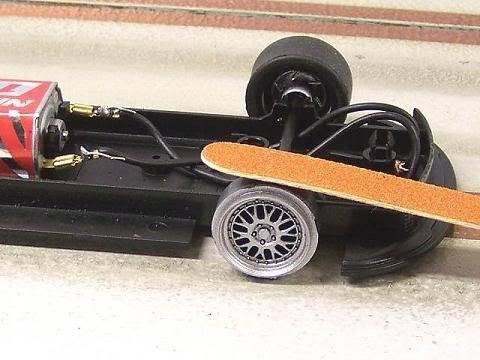 The final step was a quick lubrication. I just put a light drop of oil in the areas shown. Do NOT over lubricate. As the old saying goes, a little does go a long way.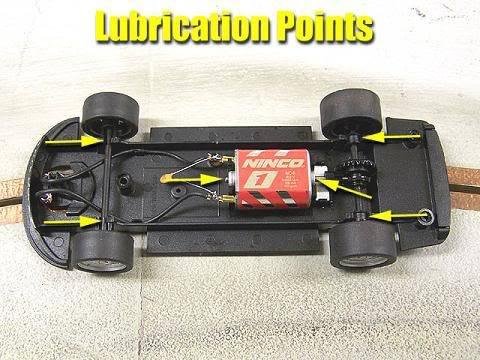 More Testing
The first few laps told me we had a hot rod on our hands. We were clicking away great lap times with an average of 4.4 seconds. This is a very good time on our 4 x 16 road course. But wait a minute? How is it this car nearly as fast as the recent FORD GT and Lotus?
Simple really, first it has great control. I can really keep my speeds up in and out of the corners much easier than with models with the hotter motors. Secondly our 1/32 slot car track is not large enough for the higher RPM motors to take much advantage. Our track has some tricky areas that take a careful trigger finger to negotiate and this model just allows that with less effort. For those with larger layouts and longer straight sections, of course the standard models will win the day.
Final Thoughts
For those of you who actually read my dribble I will have to come clean. I admit that at first I was not that impressed with this series. I felt the models were overpriced and because of this I did not spend too much time with them. Do I still think they are overpriced? Sort of. First, I should not just base my opinion on MSRP. Let me highly advise you to CHECK YOUR FAVORITE DEALER. Although the MSRP is still high, I am finding these models for well under $50.00. In fact one of my favorite dealers has them for $44.99. Yes, a little more than other brands but for me it is worth it.?
Why? Because just like you, I want what I want. I like this new motor a great deal. It reminds me of the years of fun we have had with the venerable NC-1 that is no longer with us. Just slightly more power that strikes a great balance of speed and control. I also have to admit that I have purchased models from other companies for a few dollars less thinking I had a great value, yet when they arrive here they need more than just some wheel and tire work. From bad chassis designs, bushings and gears that are virtually useless, motors that are way overpowered for the model, etc. These cars end up costing me even more money once I replace the items it needs.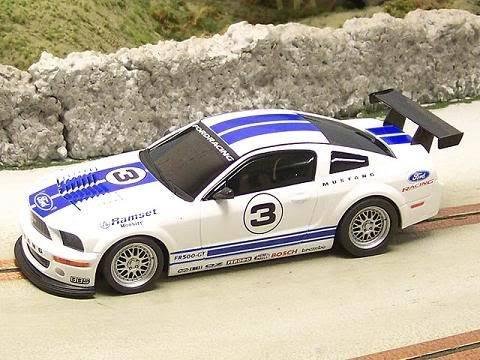 Still I leave the decision up to you as always. I agree the price could be lower but it is what it is. And for me I will pay it to get a model that runs like this one does. And truthfully, we have a very inexpensive hobby compared to others. $45.00 for a 1/32 slot car I will own for years to come and have hours of fun with my friends? I think I am getting a great return on my hobby dollar.
This line of models will not appeal to everyone of course. Those who want the added detail levels will stay with standard releases as well as those looking for more high speed action. Even though these models are designed for the beginner, there are some veterans in our hobby who enjoy a mild mannered slot car with more realistic speeds and gives us much easier and smoother control. If that describes you then I think you owe yourself to look very closely at what these models have to offer.
by Harry Wise
Home Racing World