Shipping / Sales Tax Information
Free shipping and handling on all orders $89.99 and up! Orders less than $ 89.99 ship from $ 4.99 to $ 9.99 based on package weight. Most orders are shipped via USPS Priority Mail w/ Delivery Confirmation. Some oversized and/or heavier packages such as race sets may ship via USPS Parcel Post or UPS Ground and rocket motors & flammable paint products ship via USPS Parcel Post w/ Delivery Confirmation. Optional insurance is $1.45 + 1.3% of the subtotal, and covers against damage or loss in transit. For orders shipped within the state of Ohio, a 7.00% sales tax will be applied.
Delivery Times
USPS Priority Mail - 1 to 3 business days
USPS Parcel Post - 2 to 9 business days
UPS Ground (see map below) - 1 to 5 business days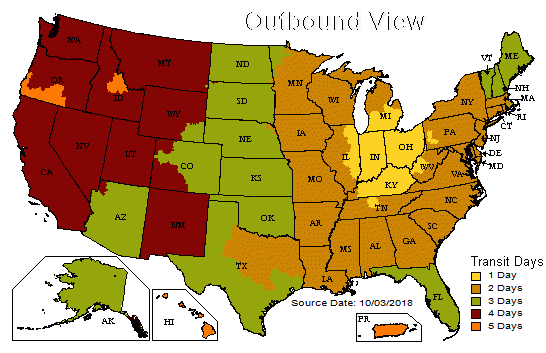 Preorders
Preorders are available for any of the product lines that we currently stock. Please send us an e-mail with the quantity and item description for each item that you would like to preorder. Payment for preorders will be accepted on those preordered items items that are due to arrive within the next 14 days. When other item(s) are ordered along with the preorder, they will ship together once the preordered item(s) arrives. Your payment will be processed at the time of the order which will hold the ordered item(s) for you. Preorder payments are non-refundable unless the item listed ship dates are not met.
Return Policy
Our staff here at BRS Hobbies is very knowledgeable about the products we offer, which will help ensure that you have a first-rate experience with your purchase. Hassle-Free returns on new, unopened items; within 30 days of purchase. Shipping and handling on the original order is non-refundable. Once a product has been opened, then it will be backed by the manufacturer's warranty, which covers the correct functioning of the product. For questions, comments, concerns please e-mail Brian@BRSHobbies.com
Privacy Policy
Contact information from the order form is only used to send orders and information to you from BRS Hobbies. We also may use a trusted third-party company for the sole purpose of contacting you via email in regards to post purchase satisfaction. Your contact information is secure and we will not sell or rent your email address to other companies or individuals. All order information is transmitted using the highest level of security to ensure a 100% secure transaction. As a further safe guard, we do not keep sensitive financial information on file.