Shop with Confidence -
Real time inventory displayed for all items.
SSL secure website with easy payment methods - PayPal or credit card.

99% of all orders ship within 24 hours or less (except Sundays & holidays).
You get a USPS or UPS tracking number with every order.
We have been faithfully serving customers since 2004.
Excellent customer support with over 30 years of hobby experience.
Authorized retailer of all the items that we sell, so you get the full warranty.
Hassle-Free return policy with no restocking fee on new, unused items.

Bizrate customer certified with over 250 verified customer ratings (screenshot below) -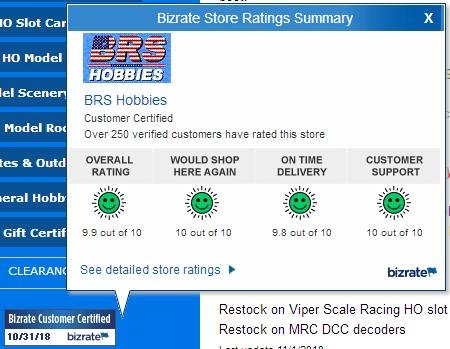 Unsolicited reviews from our customers!
"Hello Brian, I just wanted to take the time and thank you for everything when I ordered my Bachmann sound value UP 2-6-0 from you. Your quick reply to my email in response to my questions about the 2-6-0, fast shipping and careful packaging of the 2-6-0 are all very much appreciated!! I will definitely be coming back as a return customer and let me friends and family that are into hobbies know about your website! Thank you once again!"
Darin
Apple Valley, MN
"Brian, I purchased an order from you on sat. afternoon (5-22) and received it on mon. (5-24) - talk about super fast shipping and securely packed. FANTASTIC !!!!!!! Great prices also! The cars I purchased were for my husband as a surprise and he is very happy and extremely pleased. I WILL BE BACK IN THE NEAR FUTURE !!!!!!! Confirmation and communication was great too. This was the "BEST" transaction that I have ever had with anyone. "PICTURE PERFECT" !!!!!!! Thank you so very much."
Jo
Massillon, OH
"Dear Brian, I am not one to normally send letters to stores when I am satisfied with services provided. However, with you and BRS Hobbies, I have to make an exception. Prior to my placing an order you sent to me two very cordial emails letting me know the status of a particular item I was looking for. After placing the order I received further communication indicating receipt of order and when the order actually shipped. The items arrived shortly, well packed with a clear and easy to understand packing list. Kudos to you and your store. I wish you great continued success. PS: I will be placing another order with you shortly."
Albert
Richmond, VA
"I can not thank you enough for all your help and patience. There is no doubt that your E-Business is going to be, if not already is one of the most coveted and frequented for years to come. You have my support and my word of mouth, your ad slogan should read, you've tried the rest, now try the best!"
Ted
Tewksbury, MA
"Brian - I have never been so impressed and pleased with an online order as I am with the quickness of delivery, smoothness of the transaction, and the quality of your products. I WILL be back. Thank you so much."
Bruce
Thornton, CO
"I just received my order on Tuesday the 6th, after placing it on Thursday the 1st. That's over the weekend and on a holiday, yet you got the order, shipped it and I received it in less than 3 business days. Now that's some fast service...very impressive. The package arrived in an oversized box labeled with large "fragile-handle with care" stickers on it and each item was packaged and padded with newspaper. You can tell you guys give that extra effort to make sure your customers are satisfied. You definitely have my business next time!!!"
Mark
Lexington, KY
"Package arrived today in perfect condition. What fast shipping! I will be buying from you in the future!"
Greg
Mount Airy, NC
"Brian - I did get the package today, and everything looks great once again. That Spitfire will be fun to make! Thanks for your courtesy with the wadding and everything else, and for showing an interest in everything... Thanks again for the great products with your awesome service - I know I'll think of more things to get soon! Have an awesome weekend!!"
Ryan
Greenfield, WI
"First I want to commend you guys and your super quick service, I've never ordered anything that arrived so quickly."
Peter
Lowville, NY
Click here
to check out our 100% positive eBay feedback!