Getting Started in Carrera DIGITAL 124/132

Over the years, we have helped a lot of customers get started in digital slot car racing. The biggest challenge is equipping slot car enthusiasts with the knowledge to get the right products in their hands and to give them the information necessary to get the most out of those products. Often the difference between an awesome experience and a just okay experience is getting the right information on using the available products in the right way. The goal of this article is to guide you step by step on which products to get started with in Carrera DIGITAL 124/132, and how to best use them so you will get the most enjoyment out of your digital slot car racing experience.
Here are some advantages for choosing Carrera DIGITAL 124/132:
The Carrera DIGITAL 124/132 slot cars are durable and run great on a Carrera DIGITAL 124/132 slot car track and have adjustable traction magnet(s).




The Carrera DIGITAL 124/132 control unit has ten different top speed settings which will give drivers of any skill level the chance to enjoy racing on the track. Each car can also be set to a different top speed setting to make it fun for everyone. The adjustable top speed is especially helpful when racing with less experienced drivers, since it allows you to quickly lower the top speed of a particular car making the car much easier to keep on the track. As the skill of the driver improves, the top speed of the car can easily be programmed to a higher top speed.




You can race up to 4 drivers with DIGITAL 124 or 6 drivers with DIGITAL 132, on a two lane track. This allows more of your family/friends to participate in the racing at the same time in comparison to a typical analog slot car track which is one car per lane.




Carrera track is 1/24 scale track which is wider than Artin, NINCO, SCX, and Scalextric track. The extra width is helpful when you have a lot of cars on the track. The Carrera track has a smooth, flat surface which offers good grip with the stock rubber tires, especially if the rear tires are trued with sand paper.
Since the Carrera track is a larger 1/24 track, it is important to have a minimum of a 5' x 12' foot area for a track, having more space available is even better. A Carrera DIGITAL 124 track will take up a little more space since it is recommended by Carrera to have borders on the sides of the track for the larger 1/24 scale slot cars. Having an adequate space for a Carrera track is really the only main drawback for going with Carrera DIGITAL 124/132, so if you have the space than you've made a really good choice.
The three main differences between Carrera DIGITAL 124 and DIGITAL 132 are that DIGITAL 124 is limited to four digital 1/24 slot cars, to a DIGITAL 124 transformer (18 volts), and that the track pretty much needs borders all the way around to accommodate the larger 1/24 scale slot cars. DIGITAL 132 allows for 6 digital 1/32 slot cars to run at the same time, uses a DIGITAL 132 transformer (14.8 volts) and borders are optional with the smaller 1/32 slot cars. You can easily switch from DIGITAL 124 to DIGITAL 132 (and back again) by switching to DIGITAL 132 slot cars and a DIGITAL 132 transformer in place of the using the DIGITAL 124 slot cars and the DIGITAL 124 transformer. The reverse is also true that you can switch from DIGITAL 132 to DIGITAL 124 by using the DIGITAL 124 cars and transformer in place of the DIGITAL 132 ones.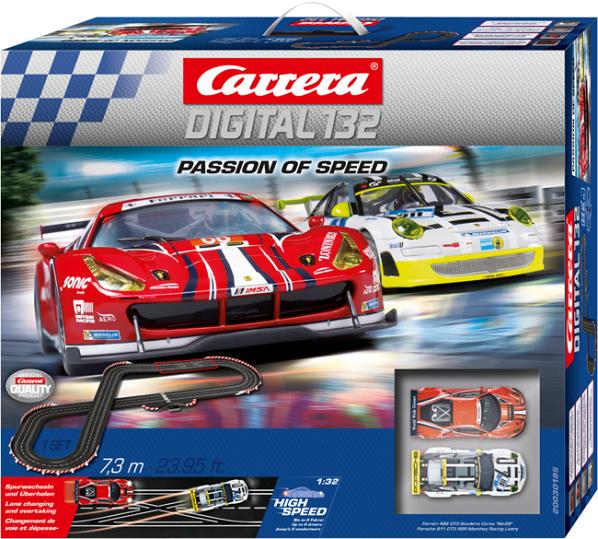 The ideal way to get started with Carrera DIGITAL 124/132 would be to get a Carrera DIGITAL 124/132 race set that comes with the Control Unit. The Control Unit comes in all the newer Carrera DIGITAL 124/132 race sets and has more features than the older sets that come with the more limited Black Box. For those who currently own a Carrera DIGITAL 124/132 race track with the Black Box, you can easily upgrade to the Control Unit, which is compatible with your existing Carrera DIGITAL 124/132 track including the speed controllers and transformer.
If you need more than two cars to race at the same time you will need an additional Carrera DIGITAL 124/132 slot car and one Carrera DIGITAL 124/132 controller for each additional driver. Please note that if your Carrera DIGITAL 124/132 race set comes with wireless controllers than all you would need is one additional Carrera DIGITAL 124/132 2.4 GHz WIRELESS+ Speed Controller. This wireless speed controller can share time on the charging base along with the other wireless controllers that came with your race set. Also, if you currently have corded controllers, you can expand the number of racers on the race set by purchasing additional Carrera DIGITAL 124/132 corded controllers or the Carrera DIGITAL 124/132 2.4 GHz WIRELESS+ Set DUO which adds two wireless controllers to your race set. A maximum of two corded controllers can work side by side with the Carrera DIGITAL 124/132 2.4 GHz WIRELESS+ controllers.
Here is some additional information on some Carrera DIGITAL 124/132 products you should also consider purchasing, because they are aimed to enhance your overall experience and customize the track to suit your individual needs.
1) Display Options - The control unit doesn't have a display, so if you want to be able to access race information, you will either need to buy a Carrera DIGITAL 124/132 Lap Counter or the Carrera DIGITAL 124/132 AppConnect.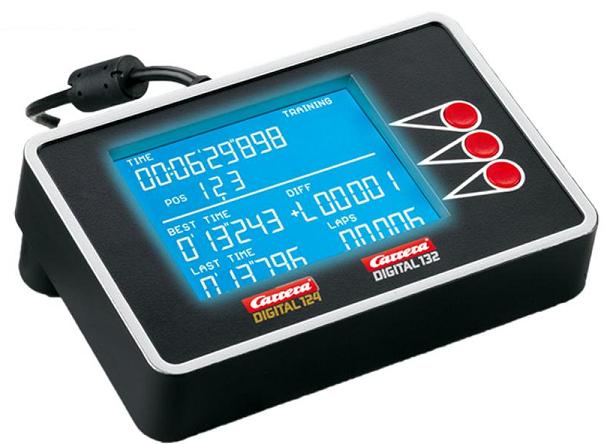 The Carrera DIGITAL 124/132 Lap Counter offers easy to read backlit display that shows position, fastest lap times and the exact overall time with time difference. This lap counter is compatible with the Carrera Digital Control Unit and easily plugs into it without needing any additional track. The only drawback is that it isn't always easy for all of the drivers to view the screen during a race. For this reason, Carrera offers the Carrera DIGITAL 124/132 Position Tower which is a stand alone product that connects to the control unit, and can be used with the Lap Counter. The Position Tower displays the race position of each car and either the number of laps or minutes remaining in the race. The display is updated every time a car crosses the start/finish line, so the racing results are always displayed in real time.
Another option is to use the Carrera DIGITAL 124/132 AppConnect which displays all race information on a smartphone or tablet including the fuel level for each car. You can use the AppConnect along with the position tower, multiple driver displays or by itself. It is a really good option if you have a suitable smartphone or tablet that you can use along with your track.
Please note:
The Lap Counter and the AppConnect can't be used at the same time. The other Carrera DIGITAL displays will work with either option.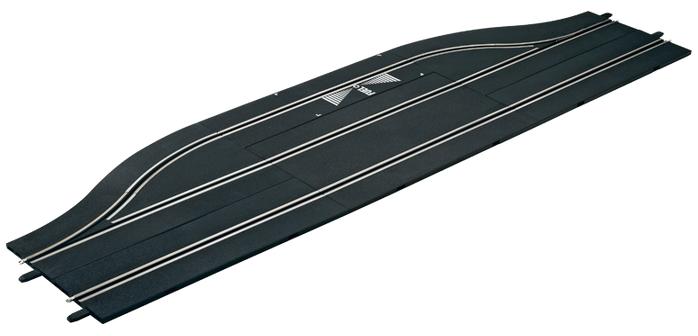 2) Carrera DIGITAL 124/132 Pit Lane
- This product adds another element to the racing by requiring each car to perform a certain number of pit stops on the track. You can also extend the pit lane by using the Carrera DIGITAL 124/132 Pit Stop Extension. To be able to view the fuel level of each car you will need to use either or both the Carrera DIGITAL 124/132 Driver Display for each car or the
AppConnect

.
You are ready to set up your track. A few considerations is that it is best to install the lane changers at least one standard straight (or up to two standard straights) after the exit of the curve. This is to ensure that the cars don't miss the lane change in the case the car is still drifting around the exit of the curve. What also makes this an ideal place for a lane changer is that the cars are accelerating after the exit of the curve which is an easier time to perform a lane change than when entering a curve that would require you to concentrate on braking and changing lanes at the same time. Another good place to put a lane changer is in a slow to medium speed part of the track that generally requires a fairly constant throttle.
As far as the Carrera DIGITAL 124/132 control unit goes, it is a good idea to position it with at least one or two standard straights before it so the cars are going completely straight (not drifting sideways) over the lap counting sensors which could result in a missed lap count.
Eventually you will probably want to buy more track to expand your racing, but this information is a great place to get you started in Carrera DIGITAL racing. All the Carrera products come with a 1-year warranty as well, which gives you peace of mind about your investment. Over all DIGITAL slot car racing is a very enjoyable activity that will bring the thrill of racing into your home!
© 2014 BRS Hobbies. All Rights Reserved. Getting Started in Carrera Digital 124/132.